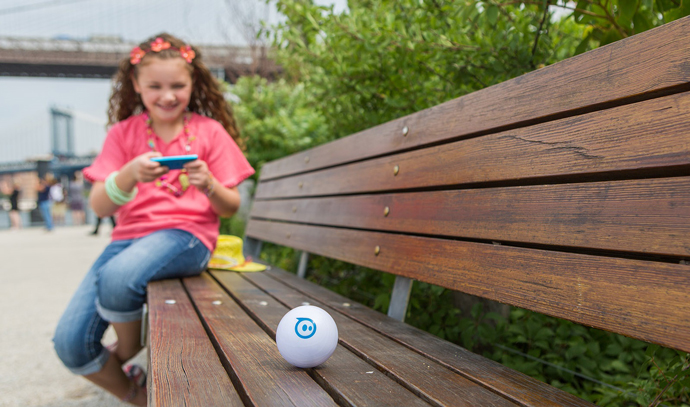 Sphero 2 ini memiliki kecepatan hingga 7 meter per detik yang bisa anda kontrol dari perangkat Anda melalui koneksi Bluetooth dengan jangkauan hingga 100 meter. Didukung oleh pengisian induksi, Sphero 2 bisa anda mainkan dengan hewan peliharaan, tahan air, dan siap untuk petualangan apapun di outdor ataupun indor. Sebagai bonus, 2 landai termasuk dalam setiap kotak dan Anda dapat memilih dari lebih dari 25 aplikasi untuk memulai dunia baru gameplay mobile.
Features
Explore
Control Sphero from your smartphone or tablet, change colors, complete challenges, earn tricks, and more. Sphero is waterproof, pet-proof, and ready to roll.
Learn
Download free SPRK lessons and learn the basics of programming. Then unleash Sphero's inner robot and program like a pro. The more you play, the smarter you get.
Play
Create obstacle courses, turn your living room into a video game with augmented reality, or upgrade family game night with multiplayer fun. With over 30 apps available for Sphero, you'll never run out of ways to play.